Training your dog gives him the life he deserves!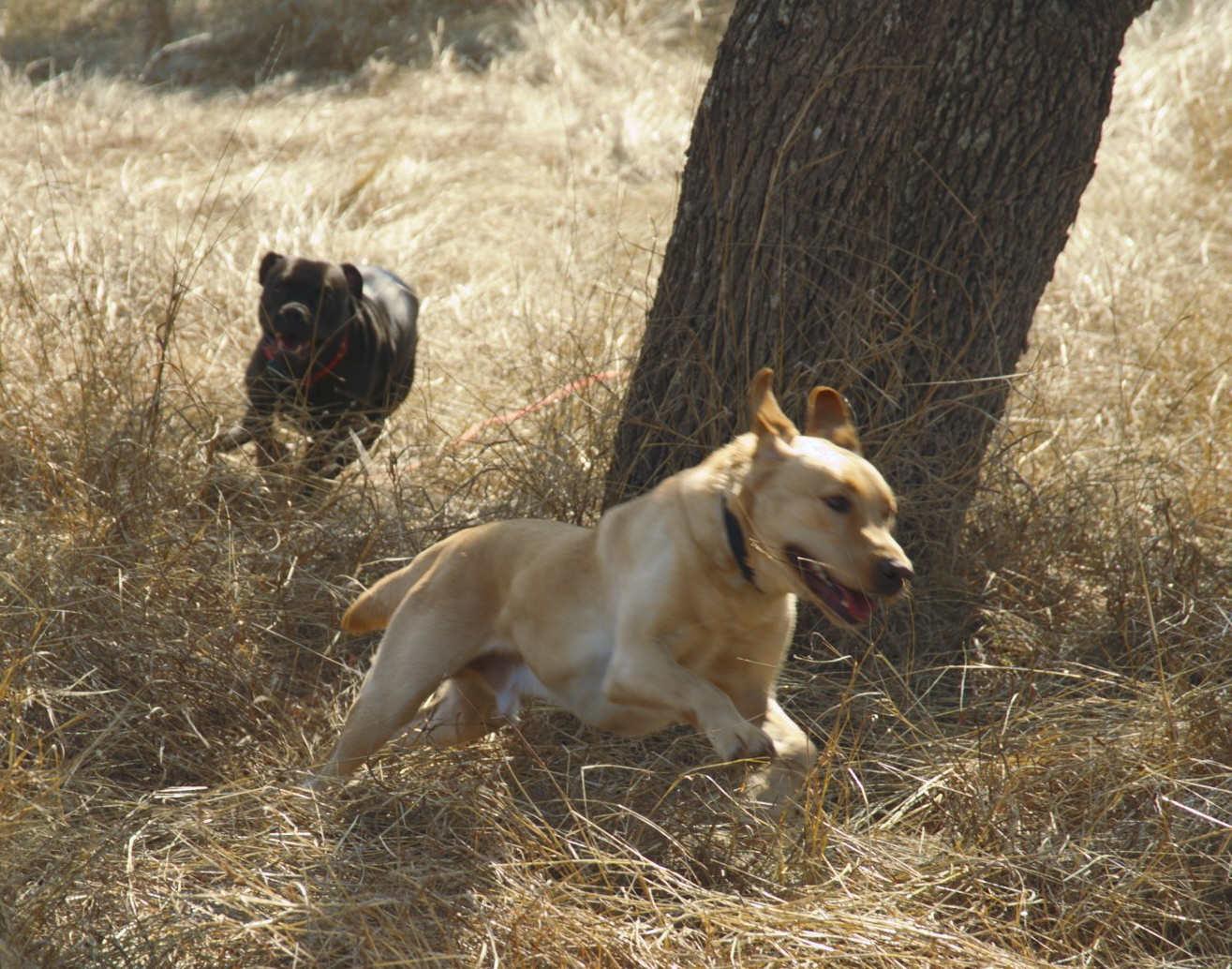 An untrained dog can result in annoying, impolite, and potentially very dangerous behaviors. Jumping can knock over kids, pulling on the leash makes walking less than enjoyable, nails can scratch, and mouthing hurts, even when the dog is just playing. When dogs do these things they are often banished to the back yard, crate, or other containment.
Some pet owners decide to give the dog away and/or drop them off at a shelter. When a dog is removed from his pack, he leads a miserable life. Training gives both owner and pet the opportunity to enjoy each others' company and spend more time together. Banning your dog makes all behavior problems worse!
We offer many solutions to improve owner and dog relations. No matter the breed, we can work on obedience and behavior issues. Our team will ease your worries with our simple, yet effective training processes.
Our programs will help to:
Train your dog (whether puppy, adult, or a newly adopted rescue) in basic obedience
Ease the apprehension of being a new dog owner
Establish YOU as the pack leader
Stop leash pulling
Stop jumping
Stop destructive behavior
Stop running away
Stop digging
Stop mouthing
In-Home Obedience Training
We offer effective in-home dog and puppy obedience training with professional trainers at competitive pricing for your convenience. We teach you, the owners, how to understand your dog(s) and how to communicate with him or her better.
Our program is designed to help you train your dog in a non-distracting environment in your home, and gradually introduce distractions along the way as training advances. Our method is based on building a relationship with your dog using natural pack behavior. By using our dog psychology techniques, we can address any behavioral issue. Behavioral problems will be addressed at your first lesson. We train for behavior first and teach obedience commands second.
Board and Train
Our board and train program is a minimum* 4-week program suitable for any breed of dog at least 6 months old. This includes young dogs, old dogs, rescue dogs, and dogs with bad manners or behavior problems. He or she will learn basics such as crate training, socialization skills and polite greeting; and obedience commands including but not limited to "come", "stay", "off" and "heel". Your dog will have training in the trainer's home to include house manners like staying off the furniture and waiting at doors. By the end of training, your dog will be the ideal companion.
While your dog is with us, we will closely follow our in-home four lesson series. We will cover the initial three hour lesson at the time of pick-up. We will transfer leadership to you so that your dog will listen to you just as he or she was taught to listen to us. You will learn how to duplicate our manner of handling, communication, commands, rewards, and corrections as well as the proper use of any equipment. In order for your dog to retain his training and continue to improve, leadership, timing, and consistency are extremely important. That is why we encourage the entire family to attend this transfer lesson so that all family members are consistent and able to be the leaders your dog needs them to be.
There are unlimited lifetime follow-ups via text, email, or by appointment at the trainer's home.
Vaccination records to include up-to-date Rabies, Distemper, Parvo and Bordetella
Drop-offs and pick-ups are by appointment only. Your transfer appt will last ~3 hours or until we are confident that your dog takes direction from you.
Payment – ½ is due at drop-off and the remaining ½ at pickup
*Some dogs may have to stay longer than 4 weeks due to learning behaviors, physical fitness, temperament issues, or maturity level.
Not only do we offer the most experienced dog obedience training in the San Antonio area, but at A Better Dog Training, we are here to help you understand and communicate with your pet. Our effective and valuable training services will help you raise your dog to be a happy, healthy, and well-behaved companion and family member. We offer several different packages from which to choose. We take pride in customizing each package to fit your needs and lifestyle as well as your dog's learning style and issues.
Give us a call at 210-788-6157 to discuss the different options and pricing today!