---
We also offer training! Please check our Training Services page for details.
When you board at A Better Dog Training, your dog(s) receive personalized, pet-specific care. We know each dog has its own personality and will try to meet his or her particular needs. Our goal is to make their time away from you as stress-free as possible. We strive to give your pet the love, attention, and care they get at home and provide treats, safe chew bones, and lots of attention as part of our normal routine. We are happy to care for pets that have special needs and/or difficulties, such as age, physical limitations/ disabilities, and medications- all at no extra charge. We treat your dog(s) like our own.
We have 3 types of accommodations:
The first is set in a home environment. Our extra large daytime play runs allow dogs to get the exercise they need while each night, or during inclement weather, they are tucked into large, cozy, and safe crates right outside our kitchen window in the climate controlled enclosed porch. We are able to monitor any sounds they make so that if your dog does need to relieve himself before morning, he is taken outside. However, what we most often hear is their contented snoring all night long.
The second is literally in our home. Small dogs and puppies are kept inside the house, with us, and have a separate and secure outside run away from the larger dogs.
The third is in an adjacent building with brand-new indoor/outdoor runs. Your dog(s) will be free to move inside or out all day long through each run's dog door, but will be safely secured inside at night.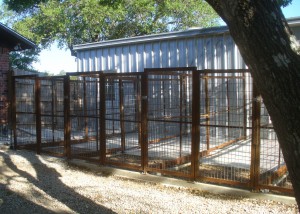 These beautiful, new kennels are possible because of the generosity of a
former client, turned good friend.
Thank you M & D!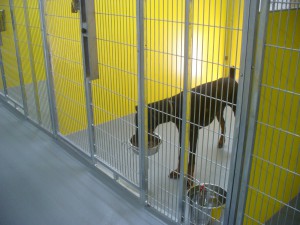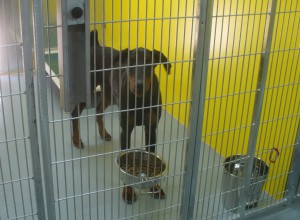 Inside runs are steam-sanitized in between boarders.
---
Boarding Fees:
Prices are for each night. Pets picked up after 6 pm will be charged an additional night. All drop-offs and pick-ups are by appointment only.
Inside crates with separate outdoor runs $25.00
Indoor/Outdoor runs (prices are for one dog in one run):
6'x8' inside attached to 6'x15' outside $35.00

8'x6' inside attached to 8'x15' outside $45.00

An additional dog in the same run $10.00
Small dogs- crate inside our home with a
separate 5'x10′ outside run $25.00
Multiple dog family: Full price for the first dog with a $5 discount for each additional dog in a separate run(s).
We encourage you to bring your pets' food to help prevent upset tummies. We serve Natures Select Premium Lamb & Rice at an additional cost of $2.00 per night if you prefer.
We offer pick-up and drop-off in the San Antonio area for $25.00 one way, by appointment only. An Owner or authorized representative must be present at scheduled pick-up and drop-off times.
Copies of each pets' current shot records are required- to include Rabies, DHLLP (distemper), and Bordetella (kennel cough). You may have your veterinarian email them the day before drop off.
You may bring blankets, toys, etc but please clearly mark them with your dog's name. We also don't guarantee the condition of these items at the end of your dog's stay. We provide kuranda beds in the runs, clean bedding in the crates and nylabones or antler chews whenever the dog is inside and peanut butter bones as a bed-time treat unless you otherwise instruct us.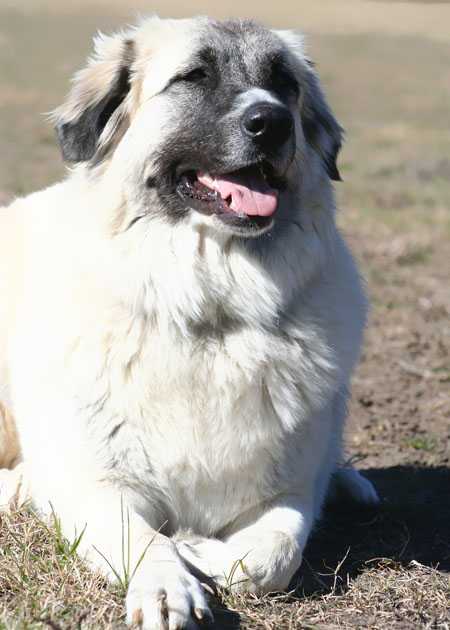 We do accept dogs that are not spayed or neutered and we take the utmost care in providing the isolation necessary to keep them all safe. However, ultimately we are not responsible for impregnation or injury should that occur.

Big dogs are our specialty!
Call to make your appointment today!